"In every Province across Canada and the North West Territories animals are being starved, neglected, tortured, abused and abandoned."
EVENTS
On October 2nd 2010, CFAWR will hold the first CFAWR National Walk and Rally, Laws-4Paws Hooves, Feathers and Fins! This will be a World Animal Day event.



This rally will be held every year as a World Animal Day event and will become part of Canada's national events calendar.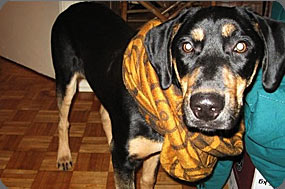 Razzie our Rally Spokes- dog. She is the beloved companion of Tammy Deslauriers our CFAWR National Rally Coordinator

Over time, the rally will gain awareness and credibility. It will grow each year in visibility and numbers. Special well known speakers and MPs will be invited to participate. We will also invite celebrities who support animal welfare to take part and contribute their talents.

While petitions are vital to inform the public and media of the issues, they do not move the Canadian government to change.

However, when the Canadian public, the government and the media see the faces behind the petition signatures - faces that belong to hundreds of thousand of people who speak out and WALK for the animals in this country - that has an impact!

There is a new groundswell afoot! Animal welfare groups and individuals are starting to connect the dots which clearly link the issues of factory farming to climate change and animal-human related pandemic diseases, like Swine Flu. Heinous cruelty is at the root of this industry and the results are all of the above.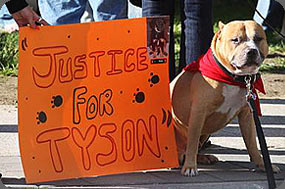 Windsor Rally participating dog with his guardian

Indisputable statistics and fact-based reports are now available from the American Humane Society, the Canadian Federation of Humane Societies and the Canadian Veterinary Medical Association with regard to the proven link between animal abuses, domestic violence and the signature pathology of the "animal cruelty syndrome." These issues must be addressed by our government, communities, justice, health care systems and police forces alike!

There is one aspect that stands out more than any fact or statistic. It is the fact that Canadians have simply had enough of animal cruelty and it has to stop now! The time has come to speak out now for all of the animals in this country. This is no longer just a Spot and Fluffy issue!

This walk and rally is the beginning of a journey that will make history for the animals in this country. We need you to help them, and we need you now!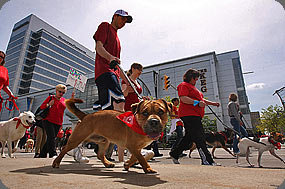 Windsor rally participating dogs and their guardians

CFAWR needs animal welfare and grass roots groups, as well as committed passionate individuals across Canada to join us in volunteering to host this rally in their town or city in every province and territory. You can utilize this occasion to raise awareness and funds for your own group or animal-related cause and walk under the CFAWR umbrella.

We have a rally outline and time plan that we can email you, as well as various other resources. However, we must start planning now!

Make history with us and make animals matter. Email us now to have a walk rally in your hometown.

Thank you on behalf of ALL animals in Canada
CFAWR Canadians For Animal Welfare Reform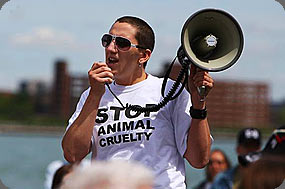 CFAWR National Rally Coordinator Tammy Deslauriers addressing Windsor Rally

Please contact the CFAWR as follows:

Sarah West
Founder and President
Canadian Ambassador for World Animal Day
cfawr@telus.net

Jordan Reichert
Vice President
BC, Alberta, Manitoba, NWT, Nova Scotia, New Brunswick, Maritimes
vpjrcfawr@hotmail.com

Tracey Kehler
Secretary
sectkcfawr@gmail.com

Tammy Deslauriers
National Rally Coordinator/ Board Member at Large (Ontario, Saskatchewan, Quebec)
laws_4paws@hotmail.com